A two day float down a river in the middle of no where with a good friend, tent camping, and lots of smallies was just what the doctor ordered. Unfortunately that is not exactly what I got. It all began when my friend said we were going to float a section of river "X" that hardly gets any pressure and is chunked full of willing smallmouth bass. He asked me if I have a canoe or kayak, which I don't, and he said it wasn't a problem and he had something I could borrow. When I got there I found out what this something was......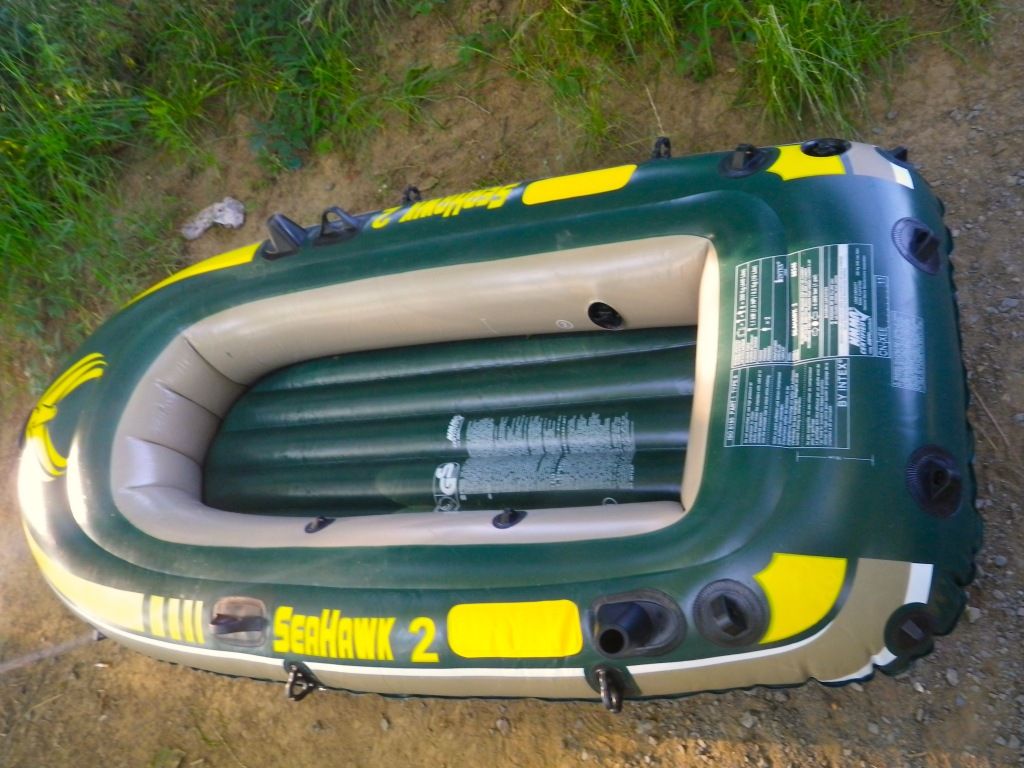 It is basically a glorified pool toy. I liked to call it my rubber dingy. It was the nicest rubber dingy I've ever had the privilege of using and hopefully my last. The funny think is it says it was a two person boat.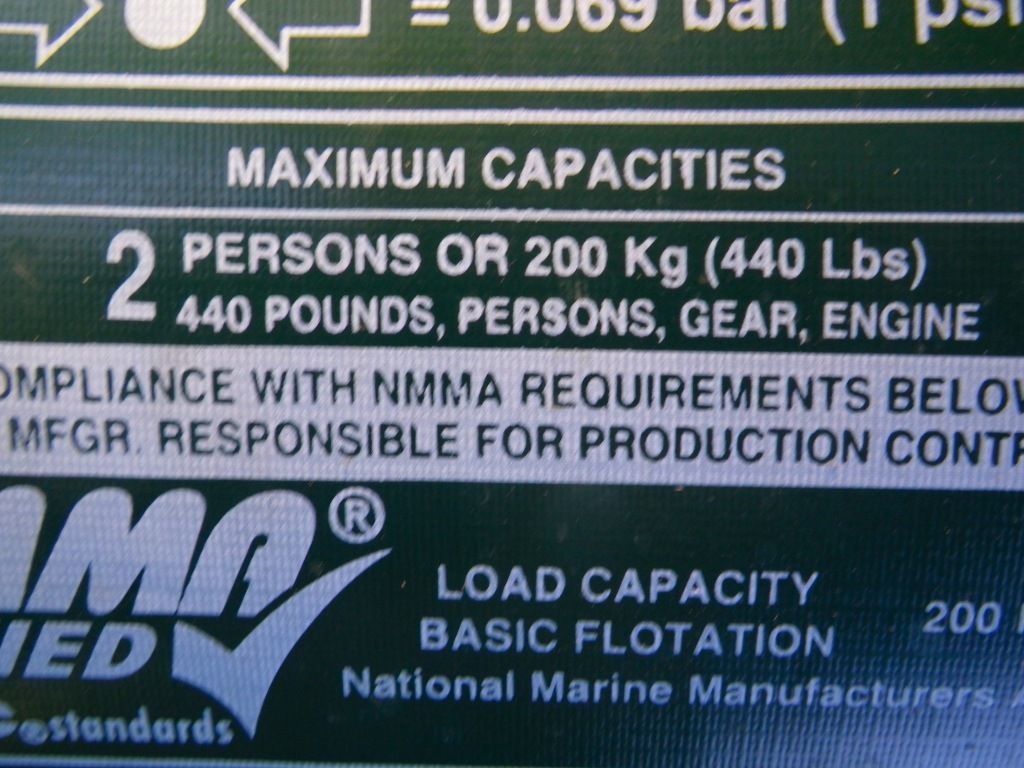 Now a person may wonder how I packed all my gear and myself into my rubber dingy.....well here is a first person shot of me rolling down the river in my dingy.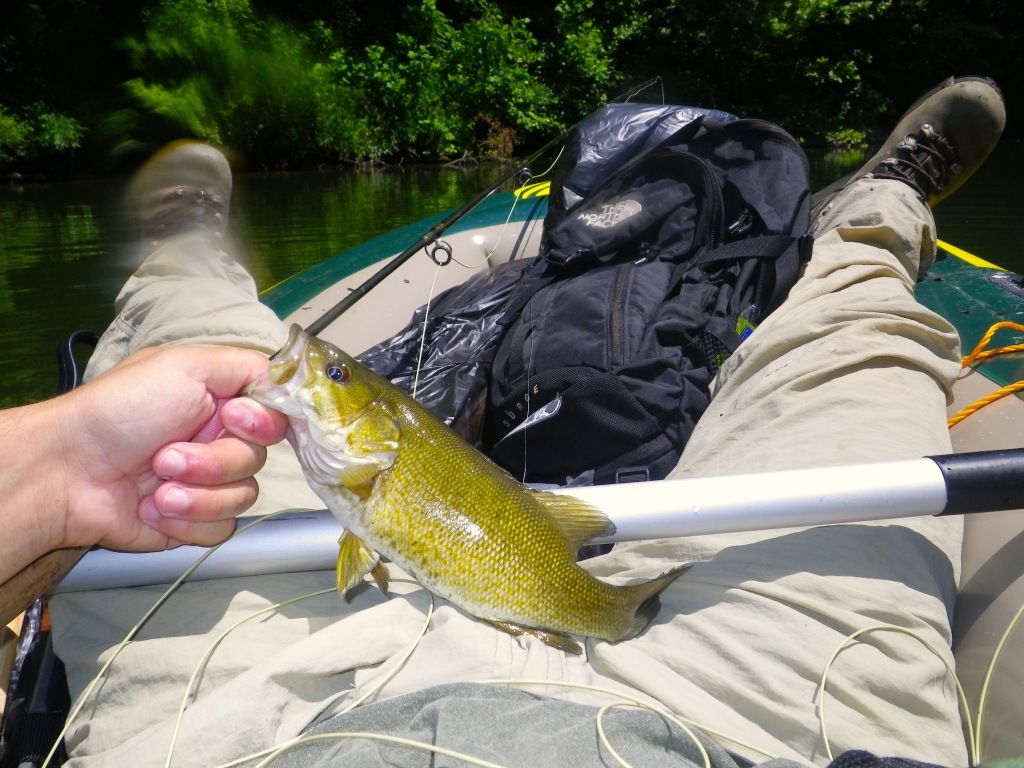 If you notice, you'll see the gear crammed in one end of the pool toy and myself crammed in the other with half of my body on top of the gear. Not to mention have you ever tried paddling a dingy while laying awkwardly on your back? It will real work out your forearms doing this weird maneuver.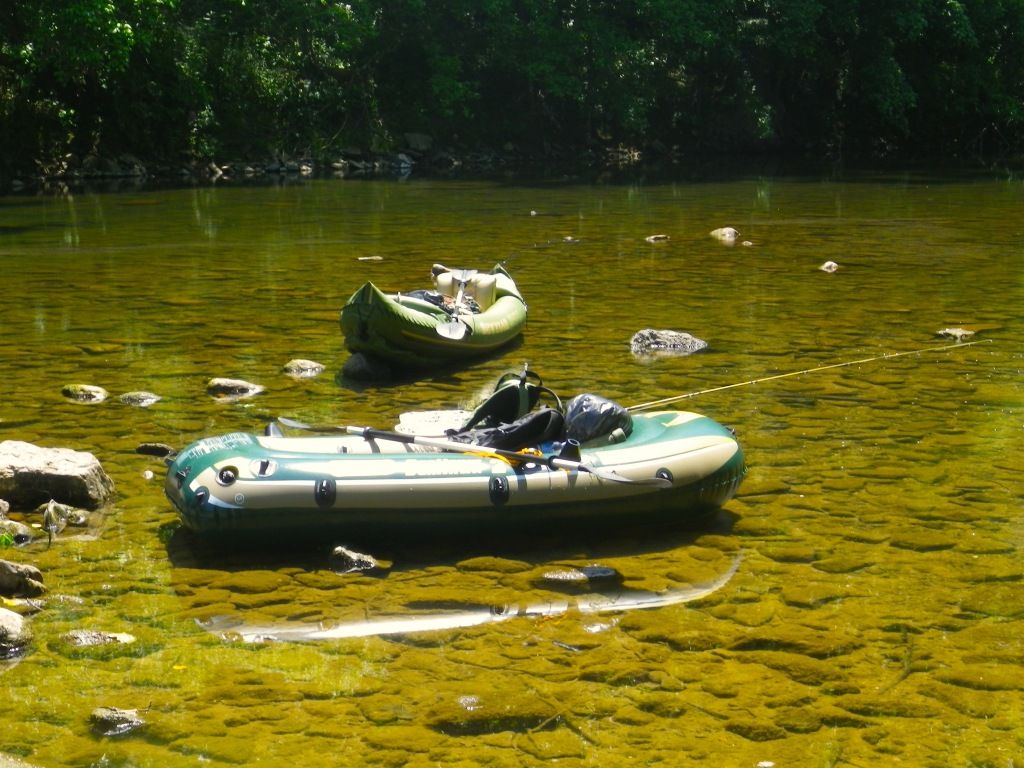 But there were our two Cadillacs for the weekend. We first had a wet half a mile hike because the section from the last access point to where the river deepens beyond 1 ft is a half a mile. Now I know why no one fishes this section..... So there I am hiking the soggy mile while dragging my dingy along. Keep in mind too my dingy was not cooperating for most of the hike and kept getting snagged and caught on rocks.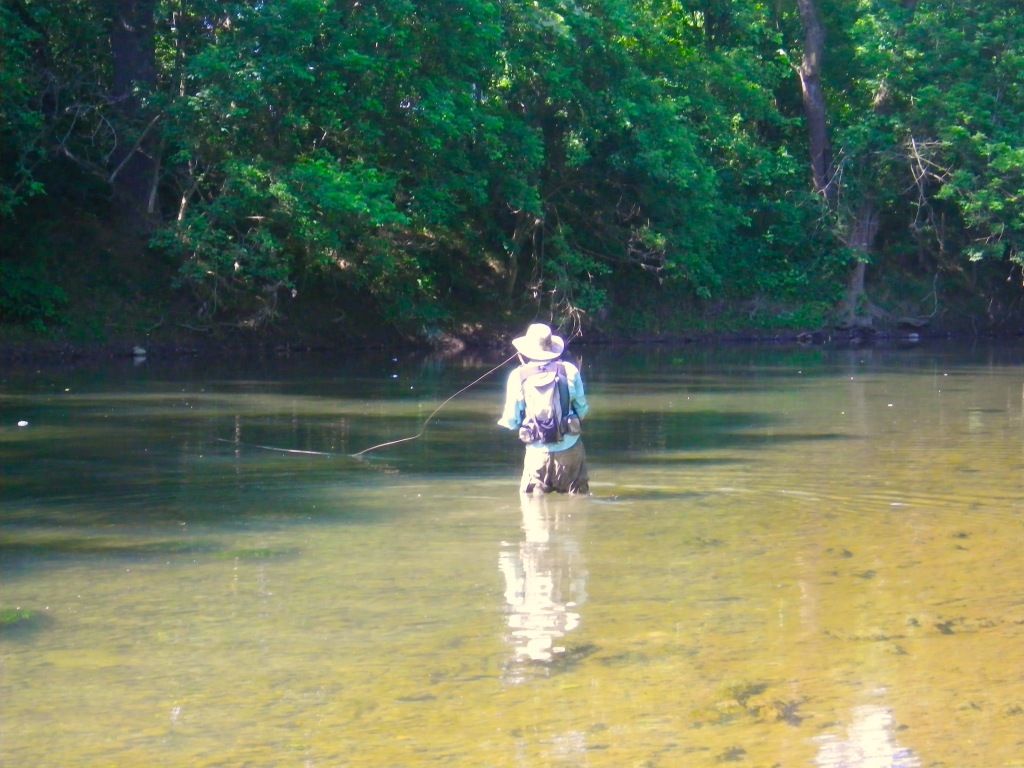 But we finally got to where the fishing started and it was prime smallie water. Immediately we started catching one after another. I had one pool where I went five fish for five straight cast. I could tell we this section got very little pressure and I also experienced why.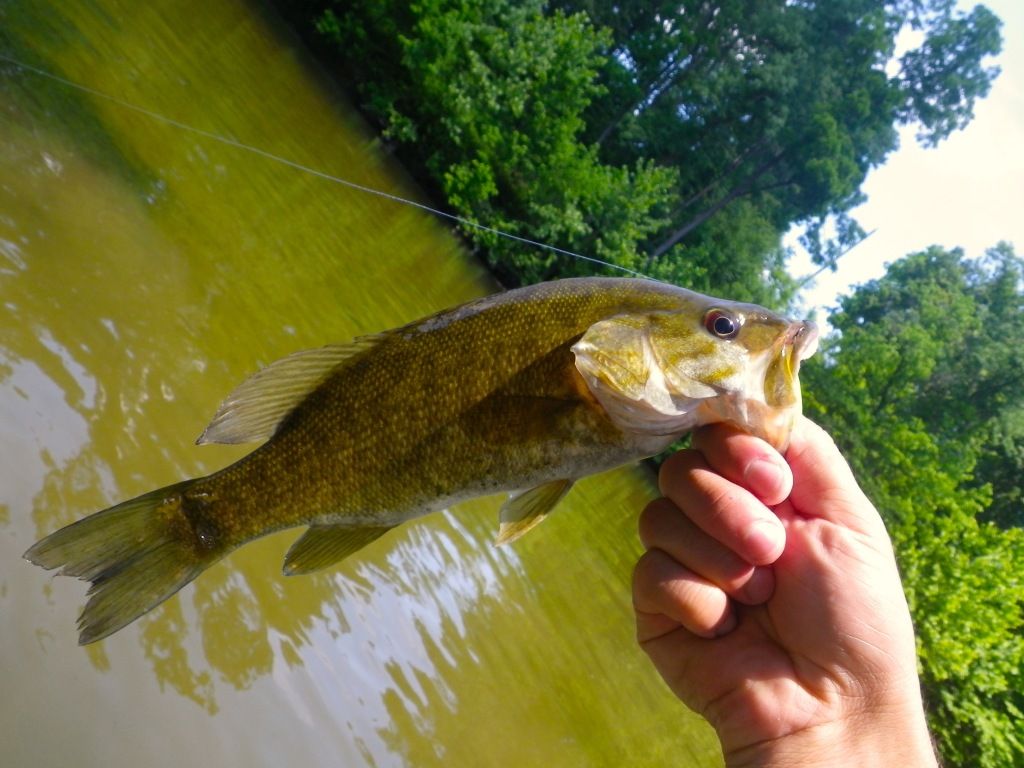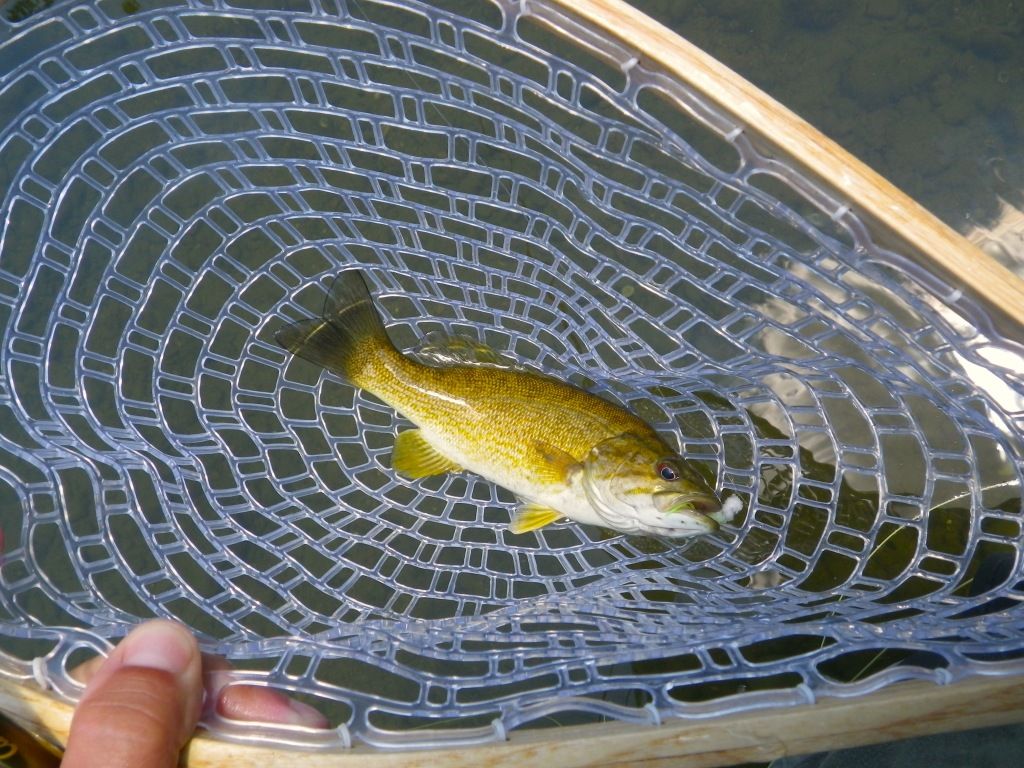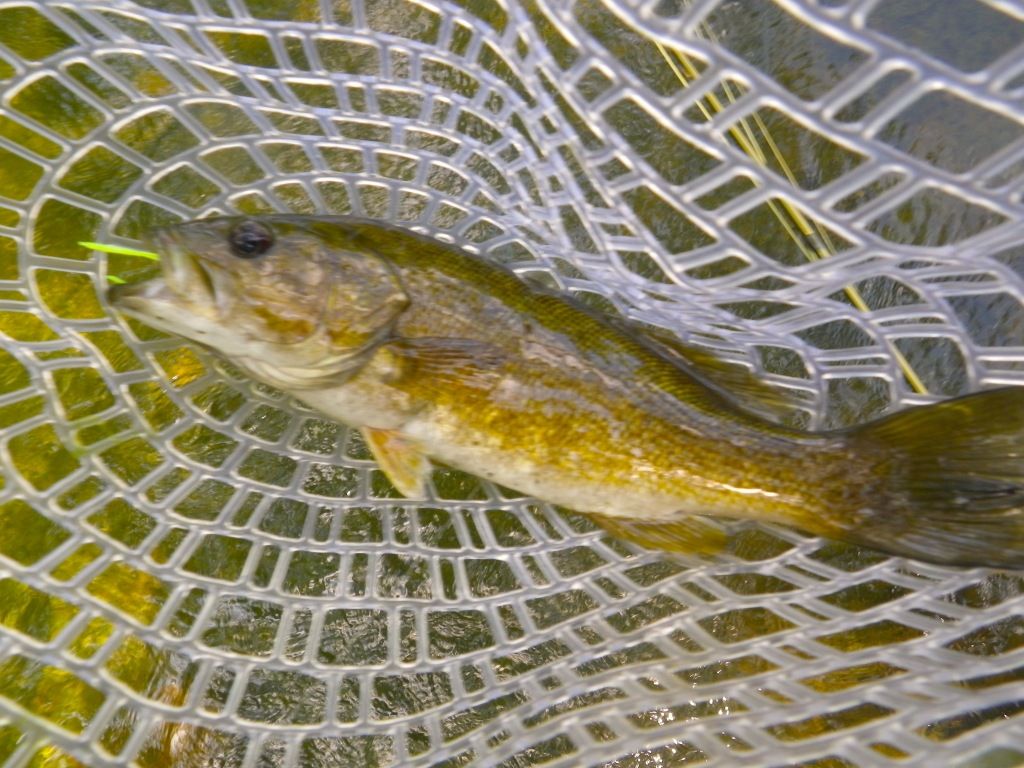 So yes the fishing was amazing for day one and we brought over 200 fish to hand. It was a great way to start the first day and the rubber dingy made the first leg of the trip okay! I on the other hand did not fair so well... I use to get real bad migraine headaches back in high school, but haven't had one in over 4 years. Well after fishing literally all day in the sun, doing my awkward forearm burning back paddle, and casting a 7 wt all day, I started to get a headache around 8 pm. I was thinking "well my arm hasn't gone numb so it doesn't mean its my high school migraines." Fast forward thirty minutes and my arm was numb, I couldn't see straight, and my head was killing me! I quickly called it a night because a good night sleep is all you can do to get ride of a migraine.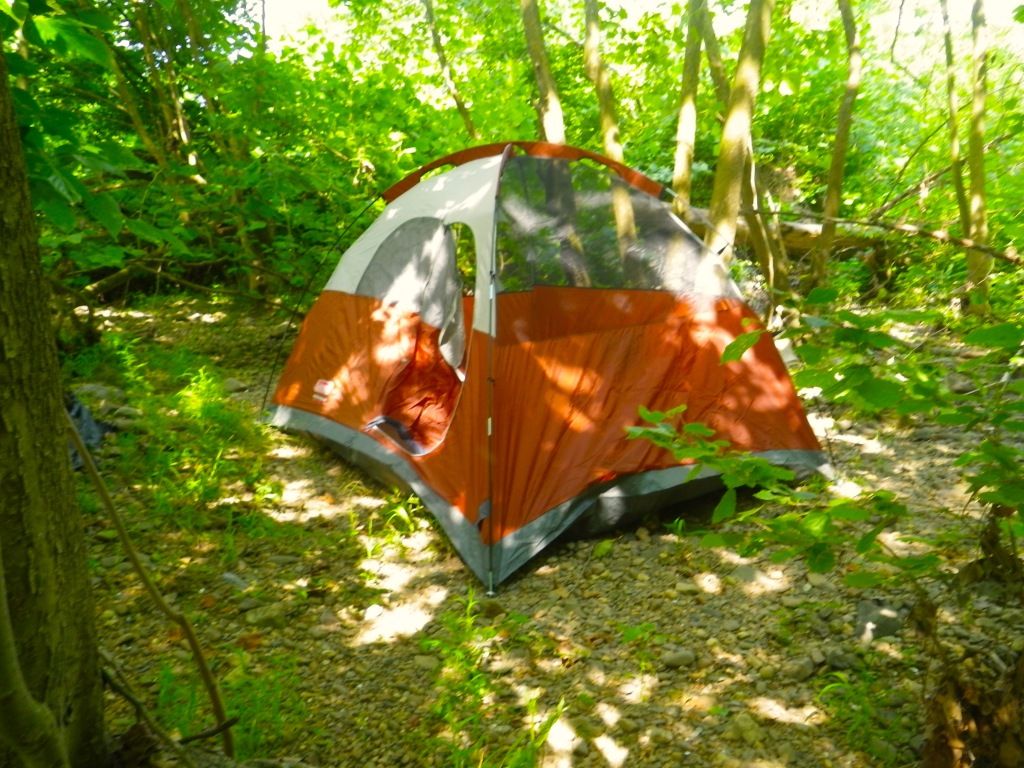 So I want you to notice the camp site my friend picked. Notice anything that would make for a bad place to pitch a tent when you do not have an air mattress or memory foam to sleep on? ROCKS! And just not any kind of rocks, thousands of baseball sized rocks. Something about those perfectly round baseball sized rocks to really grind into your side when your laying on them. That sleeping bag did not buffer out any of the rough pain those rocks caused me all night long.
I woke up the next morning with no sleep, a headache still, and very gassy (my friend brought lots of baked beans for dinner that night and I was hungry). The rocks made me feel like my back was hit by a caravan of semis. I was not a "happy camper" (pun intended) and I told my friend I do not feel like fishing and I just want to get back. He managed to talk me into fishing though so off we went in his kayak and my rubber dingy.
If you would notice, there will be no more pictures for the rest of this blog post. Mister happy go lucky picture taker was adios on day two! Did not take a single picture.
Now the second part of this river, my friend had never been on. How I found this out was as we were approaching the first rapids for the day I asked him "how bad are these?" To which he said "I don't know, I've never had anyone willing to go on this part of the river with me." Glad I could be the first buddy. After 1 mile spaced out rapids and a three foot ledge we had to portage around, I found myself submerged in water in my dingy. The bottom had a huge gash and there was no way my boat was going to make it with all my gear and me the remanding 3 miles. Not to mention I still had a splitting headache and my stomach hurt (again I don't know if it was from the sun or the beans, I did about eat a whole can of baked beans). So finally my friend said we are going to have to quit fishing and figure out how we are going to get through this float. A quick look at the GPS and we figured out we were about a half mile from a bridge. We decided we would try to get the dingy to the bridge, dump the dingy, all the gear, and me at the bridge (so glad when he included me! WOOHOO). He would hall tail the rest of the three miles to the Jeep and then come pick me up. I was sold when he said dump me and the dingy at the bridge!
So the pool toy made the final trek to the bridge which the dingy, me, and all our gear was to stay until my friend was to return. I was figuring this would at least take 3 hours.........so I napped! It was a very nice nap until I heard someone yell from on top of the bridge "HEY! You Jacob?" Seeing as how I had no idea who this person was, I wanted to yell "Nope, never heard of him!" But I reckoned if he knew my name, he obviously wasn't out to get me. Come to find out he was fishing a mile below the bridge and got to talking to my friend and gave him a lift to his truck. He was just stopping by to let me know that my friend would be on his way shortly. It's very refreshing to know there are still good people out there willing to help others for no personal gain. My friend got there two hours early then I thought which meant I could hit the Sheetz in town for a cup of coffee and Motrin two hours early then I thought!
To conclude, I am very glad I went on the float! I got to catch 200 smallies in one day and had a great memory with a good friend who I will go visit and fish with for many years to come. I am glad to report that my migraine is officially gone and besides sore forearms and a sore back, all is well. I learned several things in the float like 1) always bring an air mattress no matter how much it weighs and is a pain to lug around. 2) Bring sunscreen whenever your going to be outdoors for a long time. 3) Bring some sort of instant coffee and Motrin. 4) Pool toys are not supposed to be used for fishing floats! My dingy was great glorified pool toy and held up against some great water. I will shutter though ever time I walk past the inflatable boats in Dick Sporting Goods.....
Thanks for reading!