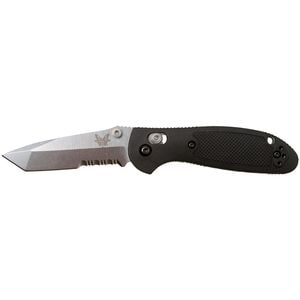 (Image is not mine, my camera takes crappy indoor pictures and couldn't get a good picture)
I have had this knife for about a month now and I really love it. Thought I'd do a review on it and maybe even encourage others to do knife reviews. The knife is a Benchmade Mini Griptilian Tanto with a half serrated blade. Blade length is 2.91 in and opened length is 6.78 in. This size to me is the perfect every day carry (EDC) knife. I messed around with the full size Griptilian, and it was just too big to carry in your pocket every day comfortably. The blade is made with 154cm stainless steel and comes out of the box shaving sharp (have a patch of hair missing on my arm to prove it). Did a little research and from what I can tell, the 154cm steel is very good with holding an edge and strong. The AXIS locking system too is something I really like about this knife. When the latch is held back, the knife swings very smoothly, but when it is locked opened, it does not budge or wobble from side to side. I don't think there is any worries about the lock failing when the blade is open nor worries about the blade wobbling around on you. Very well designed. The clip is reversible from the right to left side, but not from tip up to tip down carry. Not a big deal with me because I never really use the clip. It has a Valox handle which lives up it its name Griptilian and fits my hand nicely. Overall the knife design is pretty impressive.
Now on to why I choose the tanto serrated blade. The tanto blades get criticised a lot as well as serrated blades. The reason why I wanted a tanto and a serrated is since it is an EDC, I like having a very diverse knife on me for ever situation. With the tanto serrated blade, it gives me three different cutting surfaces. The first surface is from the point all the way back to the first corner, which is good for piercing (hopefully non living things) and making fine cuts. The second surface is from the first corner back to the serration, which is good for making cuts and is your standard surface you'd use for cutting. The last surface would be the serration which is good for cutting rope and more hard to cut things that do not involve precision cutting. I find that the blade is a very good all rounded blade which is what I look for in an EDC.
I've owned everything from SOG, Boker, Buck, Gerber, and more, but this is my first Benchmade knife and I am very impressed with it so far. Another thing that is neat is the Benchmade knife sharpening warranty. Basically if you every want your knife factory sharpened, just send it in to them and they will do it for you. This knife will stay my EDC I think for a long time to come. I probably won't take it out fishing bluelines or on a camping trip though due to the fact it's not suited for that, but that's where fixed blades come in. Highly recommend it though for an EDC.