I had purchased a 10 wt, tied a bunch of 10 to 12 inch flies, and did some reading on musky, just haven't been able to successfully get out after a musky. Well Saturday I finally was able to get my plans to work with a guy who I knew. Plan was to fish from 9 to around 3 slinging for musky. Being a fish of 10,000 casts, I honestly was not expecting to hook up, let alone catch one. I even told the guy I was with that if I got a good follow I'd be stoked for the day. We fished all day and did not even see a musky. It was a freezing day with snow flurries off and on. Since we were casting 10 wt rods, the wind wasn't affecting our line, but it affected us. 12 to 15 mph winds on a river in 30 degree weather wasn't the best weather conditions I've fished in. Also the nickel size chunk of flesh taken off my hand from the friction of casting a 10 wt in freezing conditions wasn't a plus either. But you know, it was addicting. I enjoyed the wind, snow flurries, the battle wounds because I knew I was knocking away on the 10,000 casts I had to put in. Just so happens that every once in a while God smiles down at you and rewards you for your stupid efforts. I didn't complain.
It was getting towards the end of our trip and we anchored at a musky looking area about 50 ft from the boat ramp. We hammered the sunken trees hard putting about 40 casts into this 15 foot long section of shore. The guy I was with made a cast towards the middle of the river stumped to as why we hadn't seen a fish all day. I made another cast towards the timber. I was talking to my buddy when I started stripping my fly. One strip.....two strip....third str.....tight line. I quickly look back at my line and make two more fast strip sets and see the fish start to flare. I then peed my pants.
I am hooked to say the least. It was a nice musky around the 32 to 34 inch range. Not the biggest they get by any means, but I was still excited. It will be very hard to go back to 6 inch brookies (okay, I lie). Thanks to the guy I was fishing with for taking me out on his drift boat and show me the ropes to musky fishing. Here are the rest of the pictures from the day.
Musky fly I tied and caught my fish on.
The guy I was with figure eightin his fly.
Gorgeous stretch of water we were on.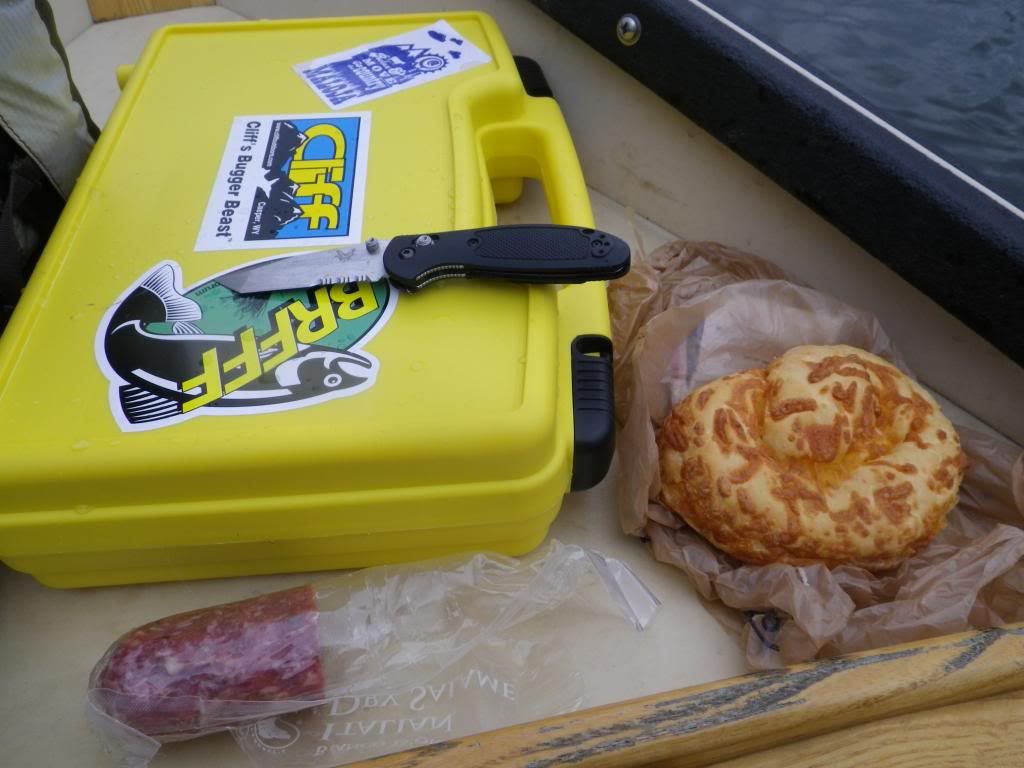 Victory lunch.
 2013 has been good to me so far. I had two goals for 2013 and that was to catch a 12 inch brookie and to catch a musky on a fly. Both of which I've completed by March.
Thanks for reading.